Kevin starring in new Theatre Shows This Autumn!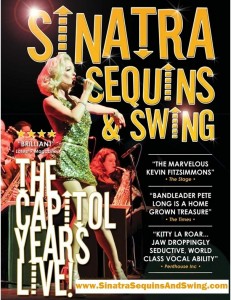 See Kevin performing live in the sensational new concert-show 'Sinatra Sequins & Swing – The Capitol Years Live! on the following dates this Autumn:-
 Thursday 25th October 2012:  CHEQUERMEAD THEATRE, EAST GRINSTEAD, SUSSEX  (Tickets http://www.chequermead.org.uk/ Box Office Tel 01342 302000)
 Friday 2nd November 2012:  THE CENTRAL THEATRE CHATHAM, KENT (Ticket http://tickets.medway.gov.uk/  Box Office:  01634 338338)
Friday 16th November 2012:  HARLOW PLAYHOUSE, ESSEX (Tickets http://www.playhouseharlow.com/  Box Office:  01279 431945)
Thursday 22nd November 2012:  BECK THEATRE HAYES, MIDDLESEX (Tickets http://www.becktheatre.org.uk  Box Office:  020 8561 8371)
 VISIT http://www.sinatrasequinsandswing.com – for info, live-on-stage clips & more!