Radio 1 DJ MATT EDMONDSON recommends Kevin to brides in Wedding Magazine!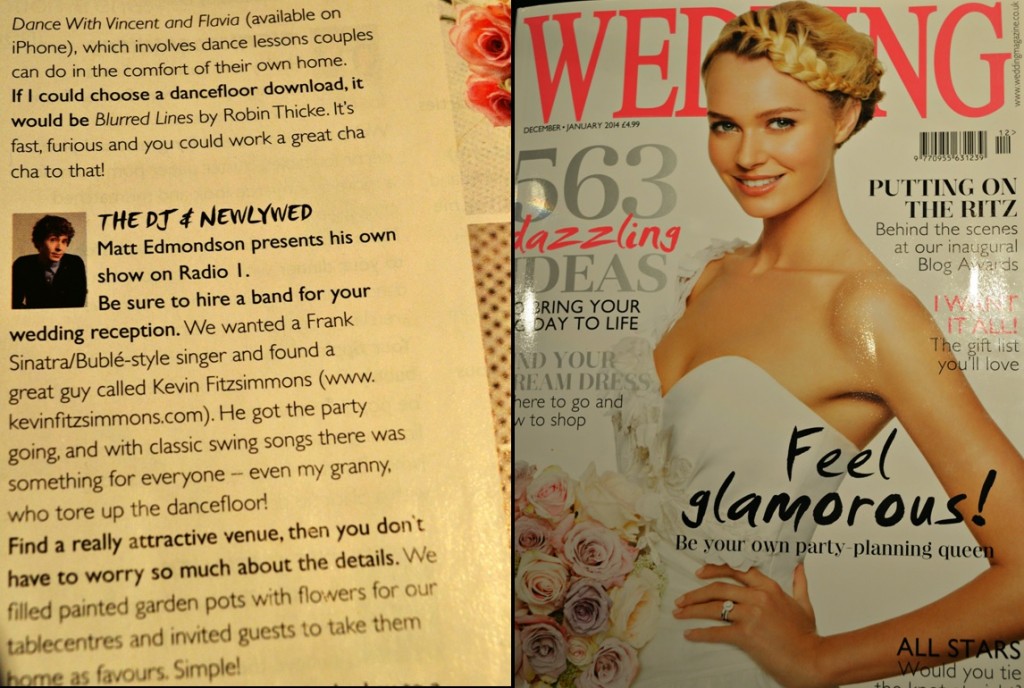 Radio 1 DJ & TV Presenter, Matt Edmondson kindly recommended Kevin to brides/grooms in last month's issue of Wedding Magazine. After choosing Kevin (with band) at his wedding last September he told readers… "We wanted a Sinatra/Buble-style singer and found a great guy called Kevin Fitzsimmons. He got the party going, and with classic swing songs there was something for everyone – even my gran who tore up the dancefloor!"
Kevin is popular at weddings all over the UK so don't hesitate to enquire for your wedding.
Influential/respected LONDON JAZZ NEWS recently reviewed Kevin's new CD! 


"Vocalist, Kevin Fitzsimmon's début CD, Show Me The Way has illuminated this listener's path with gusto. The album sports a blend of popular fare, with Kevin's own fetching songs and lyrics. His rich and resonant vocal quality hearkens the post-1950s sounds of Matt Monro and Steve Lawrence with an extra dollop of East London-cum-Essex edgy crust. It all adds up though: his understated delivery makes the less-is-more approach pay back.   A more than capable, all-star London lineup includes stalwarts like flautist, Gareth Lockrane, trumpeter, Steve Fishwick and saxman, Alex Garnett. Juggling three keyboards, Leon Greening acquits himself admirably with effective turns on Fender Rhodes and Wurlitzer. Ahh,…the glorious 60s and 70s. Recording engineer, multi-saxist and co-writer of two of Fitzsimmmon's songs, Derek Nash, plays no small part in this offering as well.  There is a wide range of repertoire in this songfest including Strayhorn's "Lush Life" to McCartney's "Norwegian Wood", plus the leader's title song and his engaging opener, "Blues For You". This nifty 12-bar has a clever set of alternative blues changes penned by Nash.   "Show Me the Way", indeed. What a gas to be aboard, what a journey to be on." (Review by Frank Griffith)
Read about Kevin & his own band, where you can see them perfoprm live and see more CD Reviews at www.jazzwurx.co.uk