"What a magnificent display of talent!"… favourite quote from last month's Leicester Square Theatre concert!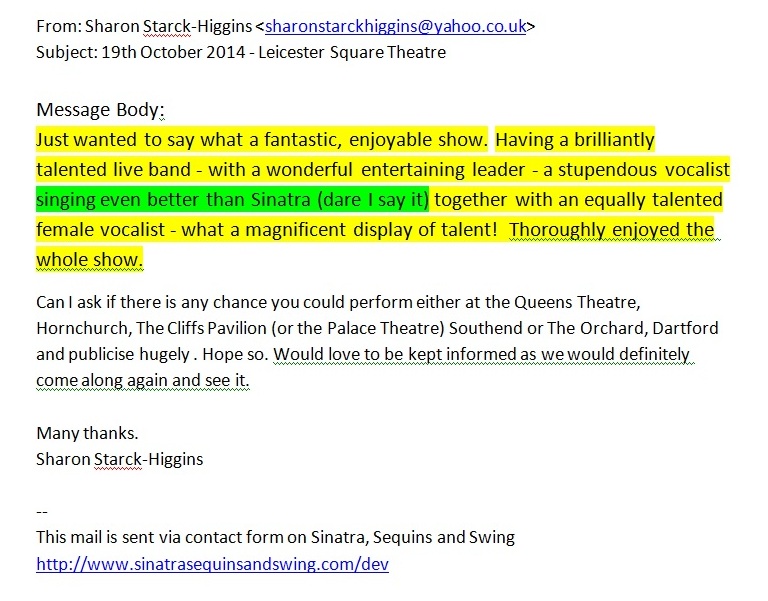 Along with some very kind social media comments for Kevin's 'Sinatra Sequins & Swing – The Capitol Years Live!' performance at Leicester Square Theatre last month was this astonishing feedback, among several the show received direct via their website.  Find full list of upcoming concerts at www.SinatraSequinsAndSwing.com | Follow www.Twitter.com/Capitol_Sinatra  | Like the show on www.Facebook.com/SinatraSequinsAndSwingTheCapitolYearsLive
Southend International Jazz Festival
Ken Barnes – last record producer of one of the greatest American Songbook lyricists JOHNNY MERCER (also the co-founder of Capitol Records) – picked Kevin as the man to deliver Mercer's most iconic songs in Ken's unique 'Hooray For Mercer!' celebration for SOUTHEND JAZZ FESTIVAL last month. Ken presented fascinating personal Mercer insights and private footage/photographs – enthralling everyone of the audience – interspersed with Kevin singing Mercer classics (inc Moon River, One For My Baby, Summerwind, Too Marvellous For Words,  & more) backed by Dame Cleo Laine's pianist, John Horler.
 Please head over to Kevin's website
www.jazzwurx.co.uk
for list of upcoming public gigs where you can next see him live.
.