JAZZ SWING wedding BAND
hire Wow-Factor Jazz Swing Wedding Bands Direct From UK's Finest Jazz/Swing wedding Singer Kevin Fitzsimmons
About
From sell-out jazz sets at world-famous Ronnie Scotts to entertaining royalty with swing at The Ritz – via TV appearances on E4 TV show Made In Chelsea with his 1920's Jazz Band, BBC3's Don't Tell The Bride, Wedding TV's Help! I Need A Wedding Entertainer and celebrity wedding clients – Jazz Swing wedding singer Kevin Fitzsimmons is famed for supplying the finest swing jazz wedding bands for hire for dancing, dinner & drinks receptions, all over the UK. His adaptability and flexibility has lead to demand at a hugely diverse number of weddings held everywhere from the band's local Golf Club to glittering ceremonies in European palazzos & chateuax – and they've picked up a few celebrity fans along the way too (see News, Clients & References above).
Our clients can choose from our huge Repertoire that includes all the classic American Songbook first-dance favourites & standards – everything from hot 1920's jazz The Charleston, 30's era vintage wedding favs, 40's swing/jive, 50's/60's Rat Pack, right up to today's contemporary jazz & modern swing a la Michael Buble – with a sprinkling of Latin/Bos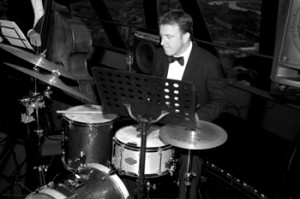 sa Nova, or a jazz re-arrangement of a pop classic too if desired. And this band are perfect for both a vintage-themed wedding of a particular era or for a mix of era – or why not have songs from all era's… from the 1920s to today's Buble! Whatever songs you choose, we guarantee to deliver an unrivalled, entertaining experience for you & your wedding guests, whether you're after a full dance floor, memorable background sets, superb over-dinner entertainment or a wow-factor show.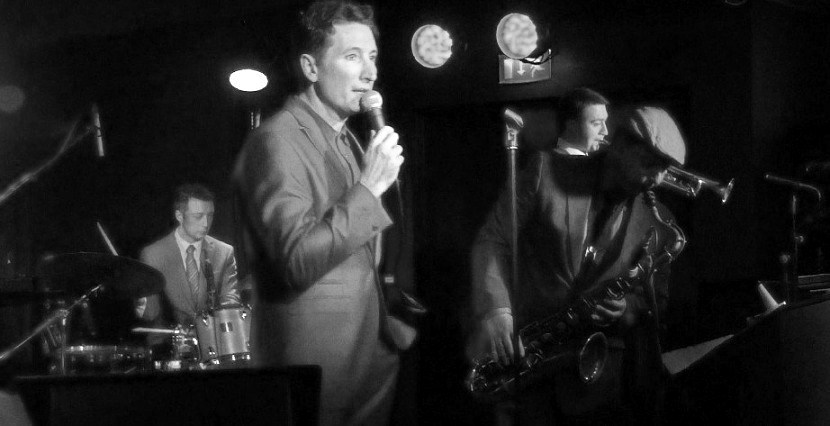 Also much in demand is our smooth Jazz WeddingTrio (Kevin/vocals + pianist & upright bass); an appropriately entertaining, elegant wow during photos or wedding breakfast that will stay long in the memory of your guests. London & Essex based, they would be delighted to perform at your wedding, be it large & loud or small & intimate, and all enquiries are sensibly priced according to dates, times and location.
Audio Demos
One of the most important considerations, when you hire Jazz Swing wedding bands, is what they'll sound like when live on your big day. But as it's not always practical to hear bands live before you book them we provide the next best thing below – 'live in action' audio demos below (find more on our Frank Sinatra Tribute, Dean Martin Tribute Band, Michael Buble Tribute, & Rat Pack Band pages) plus watch live video clips on Swing Jazz Band page
Wedding Band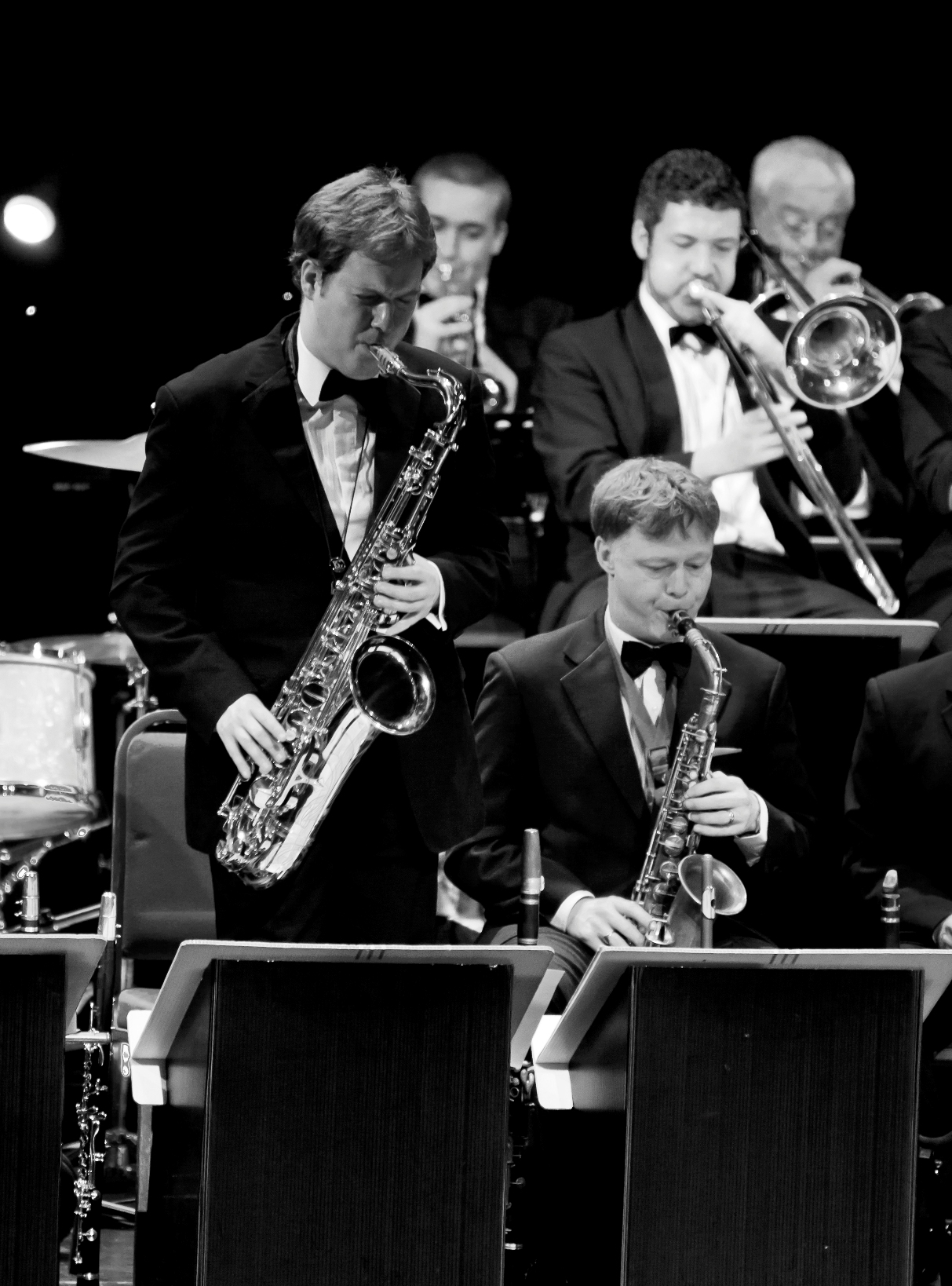 The musicians in our jazz swing wedding band are also high profile or award-winning session musicians and have performed with some of the biggest music legends of our time including Dean Martin, Tony Bennett, Liza Minnelli, Shirley Bassey, Elton John, Barbara Streisand, and too many other stars to list here. They've appeared on TV programmes such as The X-Factor, Friday Night with Jonathan Ross, Children in Need, The Paul O'Grady Show, Strictly Come Dancing, The South Bank Show, Parkinson, Top of the Pops and Later…with Jools Holland, and have performed everywhere from Ronnie Scott's to The Royal Albert Hall via the West End theatres, as well as at the major International Jazz Festivals. Celebrities worldwide and crowned heads of Europe are among the many who have enjoyed their wonderful talents. Our main musicians are:- Simon Colam – Piano; Steve Fishwick – Trumpet; Gareth Lockrane – Flute, D
ominic Howles – Upright Bass, Dave Warren – Jazz Guitar, Matt Fishwick – Drums, Adrian Fry – Trombone, Derek Nash – Saxophone.
And just a sample of the things said about them:- "Steve Fishwick's trumpet crackles with energy…there are other young bands playing in this genre but few with such panache" – Dave Gelly, The Observer. "The formidable Lockrane…a stunning display" – John Fordham, The Guardian. "Derek Nash is one of the most versatile saxophonists in the UK today" – The Guardian. "Alex Garnett is one of Great Britain's most accomplished post-bop musicians" AllAboutJazz. "Prize winning guitarist" – The Guardian. "The band is excellent, especially Adrian Fry" – The Observer.
Booking Options
We can offer you all types & line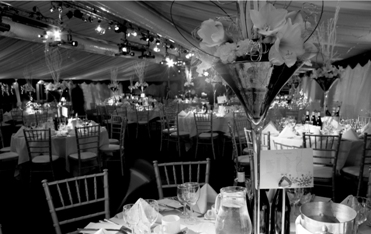 -ups of Swing Bands for weddings as well as Jazz Bands for weddings (& even a fabulous Michael Buble Wedding Singer/Band option): a popular line-up is a sextet (vocals, piano, drums, upright bass, saxophone & trumpet). If you were looking to hire a more compact band for your wedding, a 5 piece jazz/swing band (vocals, piano, drums, bass and saxophone) is suitable for many wedding function rooms. A 2 x 1-hour set, a 2 x 45-minute set, or an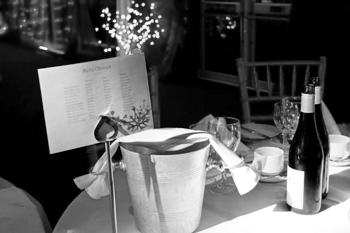 hour set is usually performed, and to give your event the very best these options can be tailored to your requirements.
Go to Contact Page for a quick wedding band quote or speak to Avril directly on 01702 219501/ 07905 169764 if you prefer a quick chat. Other entertainment options available include: Frank Sinatra Tribute Act , Rat Pack Singer, & Dean Martin Tribute